Extracorporeal Photopheresis (ECP)
Extracorporeal photopheresis (ECP) is used, among other things, to treat amyotrophic lateral sclerosis (also known as ALS, myatrophic lateral sclerosis, Charcot's disease or Lou Gehrig's syndrome). In extracorporeal photopheresis, the white blood cells are collected in a bag through cell separation, known as apheresis. The collection takes about 2 hours. The cells are then treated with methoxsalen, which makes the cells sensitive to UV light and then irradiated with UV-A light. This radiation destroys the ALS cells. The remaining white blood cells are transfused back to the patient in an infusion.
ECP therapy is used successfully for the following indications:
Progressive systemic scleroderma
T-cell leukemia
T-cell-dependent diseases
Systemic Lupus Erythematosus
Crohn's disease
Autoimmune diabetes
Graft versus host disease
Pemphigus Vulgaris
Rheumatoid arthritis
B-cell leukemia
Ulcerative colitis
Downloads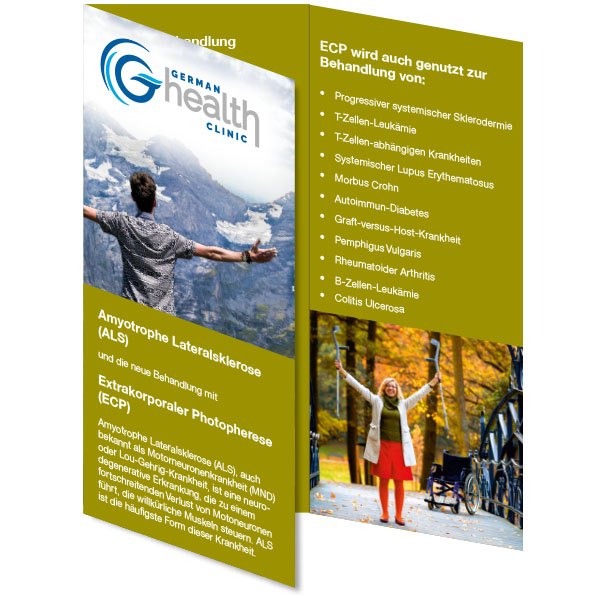 The ECP-Therapy at a glace
Get an overview of our Extracorporeal Photopheresis-therapy
Course of treatment
The ECP treatment takes about 2-3 hours and always takes place on two consecutive days. Depending on the severity of the disease and the response, treatment is initially carried out after 14 days, then, depending on the course, at longer intervals.
The aim of the therapy, which is well tolerated and low in side effects, is to remove the ALS cells so that the blockage in extrapyramidal nerve tracts is stopped.
A video explaining the course of therapy can be found here: