Immunoadsorption Apheresis
Immunoadsorption Apheresis is particularly suitable for supporting the immune system of patients with autoimmune diseases, in which the immune system attacks its own body cells. Immunoadsorption Apheresis is a method of therapeutic apheresis, i.e. it serves to remove pathogenic blood components. This procedure often leads to an improvement when therapy with pharmacologically active substances is no longer effective. In addition, Immunoadsorption Apheresis is a suitable therapy option for diseases triggered by auto-antibodies from the IgG class.
Immunoadsorption is a direct procedure in which autoantibodies are quickly and effectively removed from the patient's bloodstream. To achieve this, 2 Globaffin adsorbers, synthetic broadband immune adsorbers with peptide GAM ligand, are used. These efficiently remove immune complexes and above all immunoglobulins (IgG). The plasma, continuously obtained using a cell separator, is passed through one of the two double adsorbers (GLOBAFFIN®) for immune adsorption and is thus freed of antibodies and immune complexes. The treated plasma is recombined with the blood and reinfused to the patient.
Downloads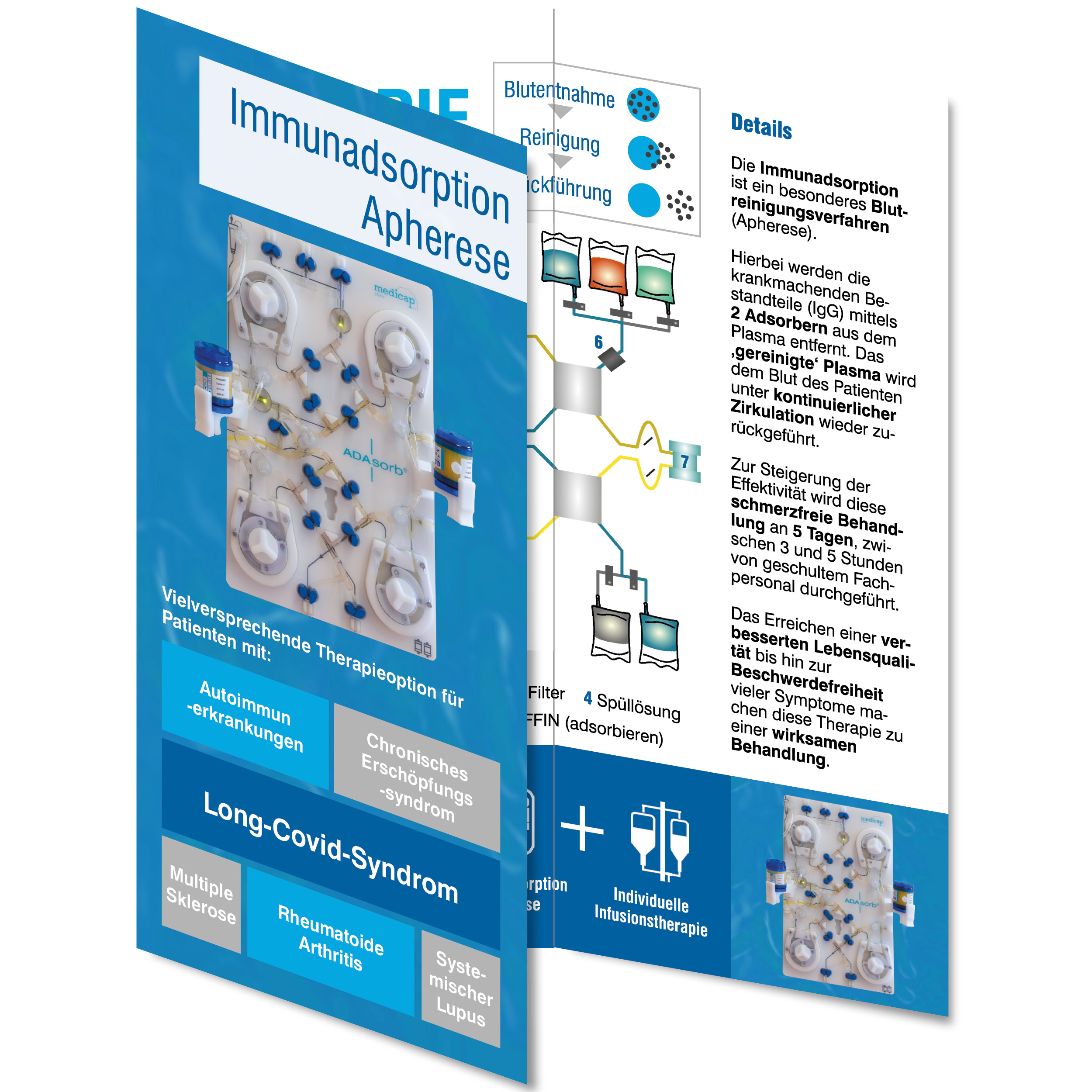 Immunoadsorption Apheresis at a glance
Get an overview of our Immunoadsorption Apheresis therapy
Patients who are treated with two and a half times the plasma volume for five consecutive days, usually experience a 95% reduction in IgG antibody levels.
Since essential plasma components remain largely unaffected due to the selectivity of Immunoadsorption, large plasma volumes can be treated.
The IgG adsorbers are used to treat ailments and diseases from various indication areas.
Chronic forms of inflammatory and autoimmune diseases, such as:
Long-Covid Syndrome
Post-Vaccine Syndromes
Chronic Fatigue Syndrome (ME/CFS)
Guillain-Barré Syndrome
Myasthenia gravis
Chronic inflammatory demyelinating polyneuropathy (CIDP)
Rheumatoid arthritis
Multiple sclerosis
Systemic lupus erythematosus (SLE)
Wegener's disease
Other indications, such as:
Fatigue
Exercise-related shortness of breath
Cognitive disorders
Sleep disorders
Headache
Muscle pain (myalgia)
Neuropathies