Therapeutic Apheresis – Innovative blood purification
With apheresis, the blood can be cleaned and the body can be significantly relieved of harmful substances.
Therapeutic apheresis is a modern process that gently and effectively removes harmful components in the blood such as heavy metals, LDL cholesterol, auto-antibodies or harmful metabolic products. Therapeutic apheresis does not introduce any substances or drugs into the bloodstream, but actually washes the blood out. Similar to dialysis, which is carried out for kidney diseases, the patient is connected to an extracorporeal circuit and the blood is cleaned with the help of special filters or absorbers. The harmful substances are removed in a very targeted manner without affecting the immune system. The then relieved blood or plasma is returned to the organism. Apheresis therapy, which can show impressive clinical results in many indications, is characterized by its good tolerability and can therefore be carried out on an outpatient basis.
Remove harmful substances from the blood by apheresis
The term apheresis comes from the Greek and means "to take away" or "to remove". Blood donors who have already donated platelets or plasma should already be familiar with the apheresis procedure.
Blood is taken through a venous access with the addition of an anticoagulant agent. Now the blood components (plasma and solid components) of the patient are separated from each other outside the body in a so-called extracorporeal cycle - this is the so-called plasma separation. Special membrane plasma separators are used for this. The desired part of the plasma is cleaned. The purified plasma is then brought together again with the solid components (red + white blood cells and platelets) and finally flows back into the patient's body via a second access.
The treatment is different with unspecific plasmapheresis. Here the previously separated blood plasma is discarded and replaced by a complex substitution solution. In general, there is no significant reduction in electrolytes and important immune bodies as a result of apheresis.
The therapeutic effect of apheresis results from the selective removal of toxic substances as well as pathogenic, i.e. pathogenic proteins and metabolic products. After blood purification, the healthy balance of various processes in the body is restored. Apheresis makes an important contribution to the basic health of the body.
Downloads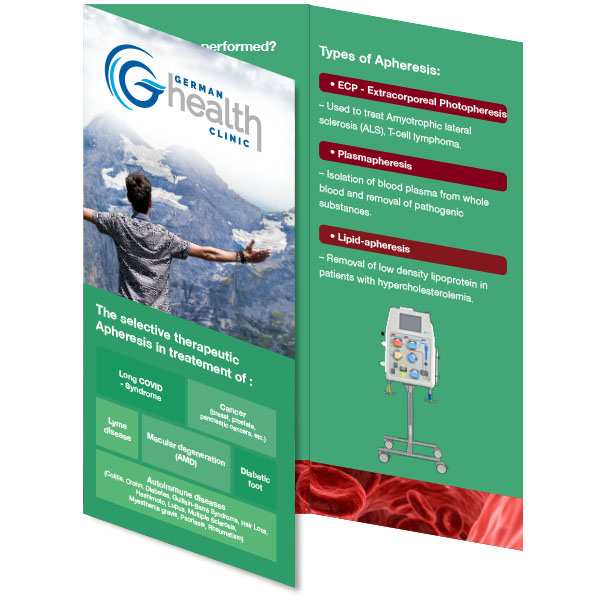 Flyer - Apheresis
Get an overview of our Extracorporeal Photopheresis-therapy
Apheresis makes an important contribution to the basic health of the body.
Apheresis is used for the causal treatment of ailments and illnesses from various indication areas:
Rheumatic diseases
Lipid metabolism disorders
Heterozygous familial hypercholesterolaemia (genetically increased blood lipid levels)
Chronic and acute immune system disorders
Autoimmune diseases
Long-COVID-Syndrom
Myasthenia gravis
Guillain-Barre Syndrome
dilatative Kardiomyopathie
And therapy-resistant diabetic foot syndrome
Sudden hearing loss