Alzheimer's
ICD-10,G30.0,G30.1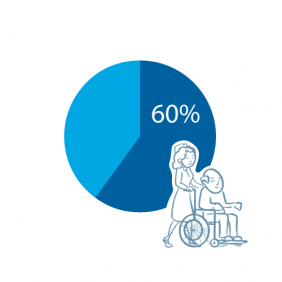 One generally speaks of Alzheimer's when one is diagnosed with Alzheimer's dementia or Alzheimer's disease. The disease is accompanied by damage to the brain, which leads to typical symptoms, forgetfulness being the main one. But there are also other faces to the disease e.g. the patient's personality may change in the individual course of Alzheimer's.
Alzheimer's disease (also Morbus Alzheimer's or Alzheimer's disease) is a neurodegenerative disease. It is most common in people over the age of 65 and is characterized by progressive dementia. There are around 25 million people with dementia worldwide. Alzheimer's is responsible for about 60% of it. Alzheimer's disease or Alzheimer's dementia is often referred to colloquially as "Alzheimer's".
The disease is named after the doctor Alois Alzheimer, who lived from 1864-1915. He described the changes in the brain of a patient whose brain showed characteristic changes.
The diagnostic code ICD-10 distinguishes between G30.0 Alzheimer's disease with early onset and G30.1 Alzheimer's disease with late onset solely by age at the onset of recognizable symptoms.
What is the difference between Alzheimer's and Dementia?
The two terms Alzheimer's and dementia are often incorrectly used synonymously.
Dementia is initially a collective term for around 50 diseases. These are neurological and neurophysiological diseases that reduce mental abilities. Alzheimer's disease, on the other hand, is a specific form of dementia and, at around 60%, is the most common of all forms of dementia. Other well-known dementia diseases would be vascular dementia, Lewy body dementia, and frontal temporal dementia.
The real question would therefore be what differences exist between the two most common forms of dementia.
In the case of Alzheimer's dementia and vascular dementia, these are at the onset and progression of the diseases. Alzheimer's disease begins quietly and insidiously and the symptoms slowly increase. Unlike vascular dementia, which usually starts very suddenly and symptoms worsen rapidly.
Although Alzheimer's and dementia show almost the same effects, they arise from different causes. While Alzheimer's disease is caused by the loss of nerve cells and brain tissue, dementia occurs as a result of brain damage caused by circulatory disorders. The effects and symptoms are largely the same. However, vascular dementia is often accompanied by paralysis and numbness.
Where does Alzheimer's come from?
Alzheimer's can have many causes, such as old age, genetic causes, high blood pressure, elevated cholesterol levels, elevated homocysteine levels in the blood, vascular calcification (arteriosclerosis), or poorly controlled blood sugar in diabetes.
Alzheimer's dementia is considered to be the most common form of dementia. It is a neurodegenerative disease that describes the increasing loss of nerve cells. The brain shrinks by up to 20%. At the same time, the patients mentally deteriorate because the transmission of signals in the brain is made more difficult. As a result, personality and social behavior change, and speech disorders occur.
Despite great progress, the causes of Alzheimer's have not yet been fully researched. However, it has been shown that plaques and fibrils cause small changes in the brain. These are deposits of beta-amyloid outside the nerve cells (plaques) and bundled deposits inside the cells (fibrils). These internal deposits are made up of tau proteins. However, whether they are the cause or a consequence of Alzheimer's has not been proven. If there is also a disturbance in the blood flow to the brain, vascular dementia occurs. The symptoms of Alzheimer's are often stronger and can be felt earlier than in the case of Alzheimer's dementia alone.
Is there a test to diagnose Alzheimer's?
Alzheimer's disease can only be diagnosed when symptoms have appeared. A suspicion of Alzheimer's can be checked with psychometric tests as well as laboratory diagnostics, imaging methods, or CSF diagnostics. These include an electroencephalogram (EEG), a computer tomogram (CT), a nuclear spin tomogram/magnetic resonance imaging (MRT), and positron emission tomography (PET) or single photon emission computer tomography (SPECT).
Is Alzheimer's Fatal?
The most common cause of death in advanced dementia is the sequelae or complications of the disease. Patients in an advanced stage suffer from immobilization, making the life expectancy of dementia patients dependent on care. People with Alzheimer's become more susceptible to infectious diseases due to a lack of self-sufficiency and mobility. Due to immobilization, the most common cause of death is pneumonia.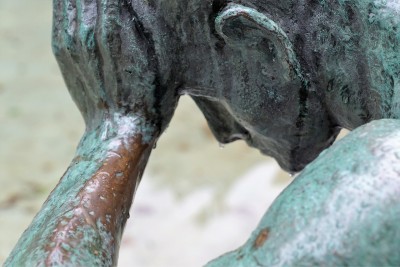 Those affected appear physically weaker and less mobile. They may only be out of bed for a short time and only be able to sit in a chair or recliner for short periods of time. However, cerebral seizures or dysphagia (aspiration pneumonia) can also occur in advanced stages.
Difficulty swallowing can increase as the disease progresses, causing people to choke more often than usual. The saliva in the throat usually causes rattling breathing. Under normal circumstances, the patient would simply cough up the secretion in the throat, which is usually no longer possible due to the restricted movement.
Sucking out the secretion is painful and hardly helps, as the mucus forms again quickly. A frequent change of body position, on the other hand, is helpful to redistribute the secretion.
Interest in eating and drinking also often decreases. Due to the reduced food intake, severe weight loss or malnutrition can occur over time. These in turn increase the susceptibility to infections.
In summary, most patients do not die from Alzheimer's disease itself, but from its consequences. The most common causes of death are pneumonia.
Symptoms
How does Alzheimer's manifest itself?
People with Alzheimer's change their moods and personalities. They may feel confused, suspicious, depressed, anxious, or restless. They are easily disturbed and upset at home, at work, with friends, or outside of their usual environment.
Symptoms
memory loss
limited thinking ability
disturbance of language and perception
loss of spatial and temporal orientation
impairment of everyday life
confusion of time and place
decreased or poor judgment
withdrawal from work or social activities
changes in mood and character
Helpful links
If you are interested in a non-binding discussion about the treatment options for Alzheimer's, you can seek advice from doctors at the center for advanced medicine Zentrum der Erweiterten Medizin. Here you will find information on therapy with TPS for Alzheimer's.
A comprehensive collection of information on the subject of Alzheimer's can also be found on Wikipedia. Wikipedia on Alzheimer's