Hyperthermia
Therapeutic hyperthermia is a medical term for artificially increasing the temperature of body tissues and is referred to as a subset of thermotherapy. It is used as a treatment in cancer therapies and can be applied as overheating to the whole body, as well as to individual regions and organs.
In this so-called overheating therapy, the body's heat output is artifcially restricted, for example by means of heat-storing wraps or baths. Hyperthermia is usually referred to as a procedure in which the body or the tumor area is heated from outside by microwave or radio waves or by infrared radiators.
What is Hyperthermia?
Hyperthermia is a form of treatment in cancer therapy in which the effectiveness of "classic" treatments such as chemotherapy and radiation therapy is increased by overheating the cancer cells, creating a synergistic effect. Hyperthermia is administered in combination with chemotherapy and/or radiation therapy. This increased effectiveness allows the dose of cytostatics (chemical drugs) to be reduced, and the ability of already damaged tumor cells to repair themselves is also reduced. This further enhances the effect of radiation therapy. Even tumors that had otherwise become resistant to chemotherapy or radiation therapy responded to these therapies again after hyperthermia treatment. After heat therapy, the immune system recognizes the cancer cells better and damages them further, stopping tumor growth.
Therapeutic hyperthermia is used successfully for the following indications:
Long COVID Syndrome
Diabetic foot
Myasthenia gravis
Guillain-Barré Syndrome
Downloads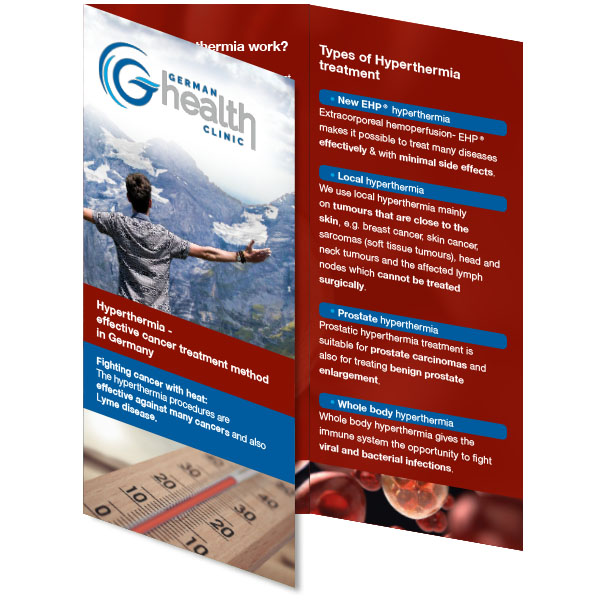 The Hyperthermia-Therapy at a glace
Get an overview of our therapy options

How does Hyperthermia work?
Cancer cells are much more sensitive to heat than healthy cells. The heating is done with an electromagnetic field and a special wavelength that primarily targets the cancer cells. "Heat shock proteins" are also formed in the tumors as a result of the heat. These are proteins that warn the immune system that a cancerous process is taking place in the body. This enables the immune system to activate "killer cells" that attack the tumor tissue in a targeted manner.
This not only destroys the cancer cells, but also increases blood flow to the tumor tissue so that the tumor can respond better to medication or radiation. In addition, side effects such as hair loss and nausea as well as physical and mental stress are significantly reduced.
Types of Hyperthermia treatments
New EHP® hyperthermia
suitable for many diseases
very effective
minimal side effects
Local hyperthermia
suitable for tumors close to the skin, e.g. breast cancer, skin cancer, sarcomas (soft tissue tumors), head and neck tumors
suitable for affected lymph nodes that cannot be treated surgically
Prostate hyperthermia
suitable for prostate carcinoma
suitable for the treatment of benign prostate enlargements
Whole body hyperthermia
gives the immune system the opportunity to fight viral and bacterial infections
Ines E. from Austria
I am very grateful for the extraordinarily good advice. The clinic recommended by German Health Clinic was able to really help my husband.
Jolanta C. from Germany
I was at a loss as to where to go with my diagnosis and what treatment would be best for me. Luckily I came across German Health Clinic. After a very detailed consultation, we found a suitable doctor and the right treatment for me. Many thanks also to the friendly team, with whom I felt cared for and understood.
Frank N. from Germany
I felt understood from the first moment. Many thanks for the competent and friendly support in finding a suitable therapy!